This weekend, I met a friend for dinner and drinks at Cooper. I had some time so I dropped into Anthropologie for a little inspiration shopping. I just love the colors and ideas that the store exudes - perfect inspiration. My house is pretty dark right now - or as K says, all brown. Don't blame a girl for loving neutrals!
But this year, my goal is to start incorporating color and lightening the place up! We have big plans for the kitchen, including a touch of my favorite color. A blue-green shade that I can hardly describe since it gets me giddy inside. Pantone's 317C is close.
Anyway, as I'm browsing Anthro, I see the cutest little latte cups. And I mean little. Like palm-sized. At $2.50 a piece, I couldn't resist. I figure I'll use one in the bedroom and one in the kitchen for my jewelry. I love them!
Mine are the color of the bottom left two in the picture below. If I'm not careful, I just might collect a whole set!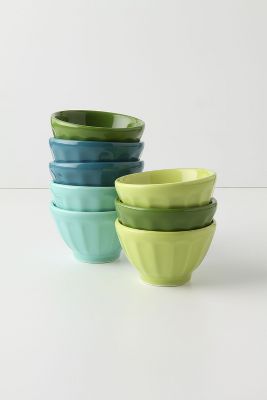 What are you craving right now?